The Gone Girl director is known for the psychological depth, visual symbolism and pulpy thrills of his films but all roads lead back to his tempestuous – and mysterious – collaborations with Madge, says Adam White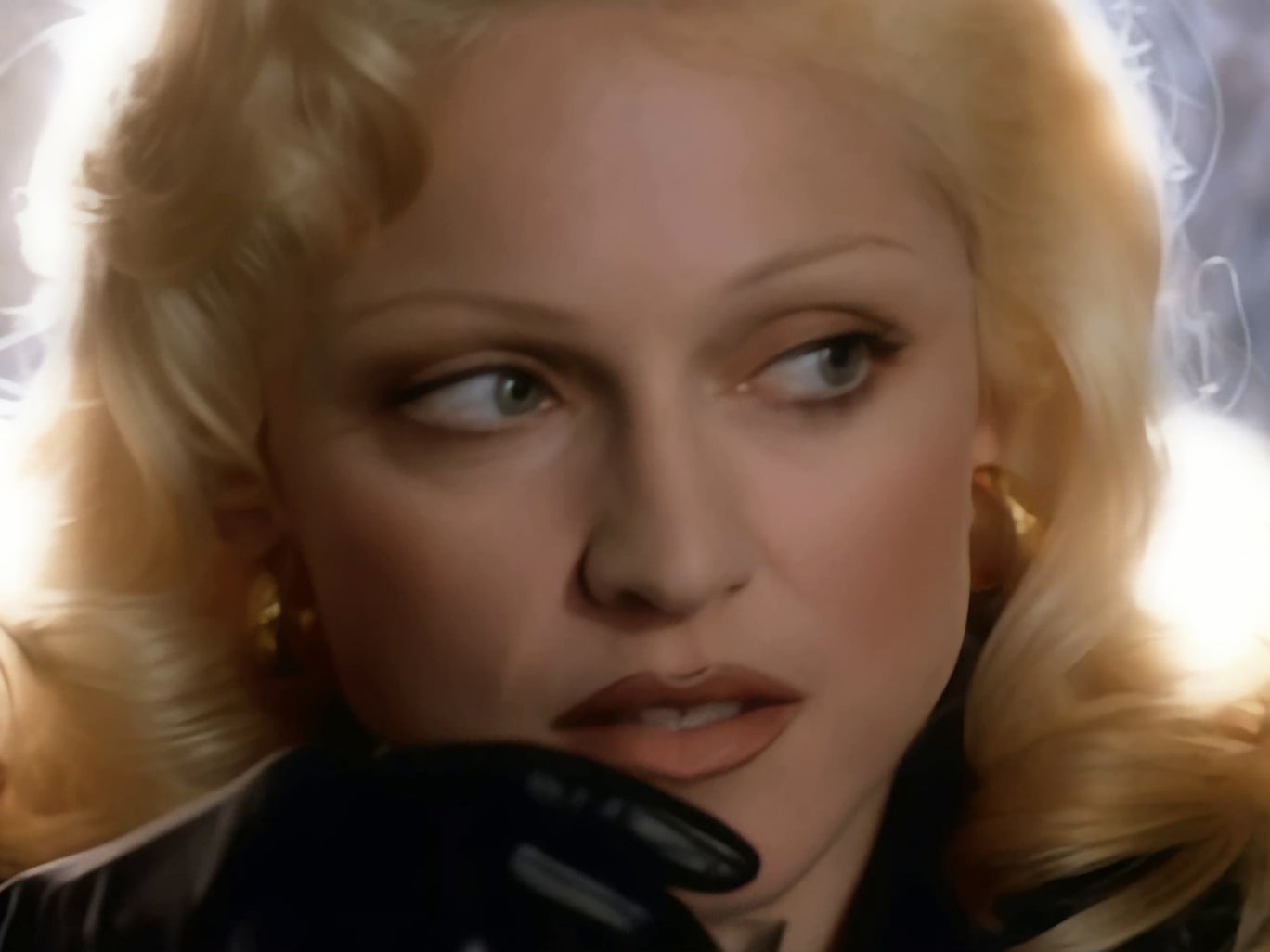 It was in the winter of 1993 that David Fincher murdered Madonna. The crime scene: a music video for one of the latter's greatest singles, "Bad Girl", and what would be the last of the pair's four collaborations. In its wake, Fincher would become one of cinema's most revered directors, the prickly genius behind Se7en (1995), The Social Network (2010), Gone Girl (2014) and the forthcoming Mank. But it's "Bad Girl" that remains Fincher's most important venture. It is a short, stylish erotic thriller that begins and ends with Madonna's lifeless corpse; a video that nods toward the filmmaker Fincher would become, and a final act of artistic symbiosis between two titans of pop culture.
Back in the Nineties, Fincher was coming to the end of a luminous eight years as a music video visionary. The likes of Aerosmith's "Janie's Got a Gun" and George Michael's supermodel-filled "Freedom '90" were gorgeous exercises in style and short-form storytelling. Little was more thrilling, though, than his work with Madonna – from the grandiose myth-making of "Vogue" and "Express Yourself" to the richly personal "Oh Father". They both recognised the cinematic potential of the form, even if it came at a cost – all of their collaborations rank among the most expensive videos ever made.
That trilogy of music videos – which came before "Bad Girl" and were shot over the course of 10 months between 1989 and 1990 – would reflect a fruitful creative tussle between the pair. Despite Fincher's relative lack of clout in the industry at the time, and especially compared to Madonna's cultural ubiquity, they would approach their work as somewhat begrudging – and almost flirtatious – equals.
In interviews, Fincher recalled expressing mock outrage when Madonna asked him if he had heard of Metropolis, the landmark sci-fi film she wanted to replicate for "Express Yourself". Madonna sneered at his idea to have her crawl across the floor, lick milk from a bowl, and then pour it over herself in the same video, assuming it might look like a student film. It turned out to be one of the video's most memorable set pieces. The visual for "Oh Father", meanwhile, a psychological wormhole into Madonna's childhood and the emotional toll of her mother's death, only came about at Fincher's insistence. Madonna had been unsure it would even work as a single. Fincher, though, saw it as ripe for visual accompaniment, and captured her vulnerability like no other.
Since then, Fincher's work with Madonna has been all over his filmmaking, their music video collaborations regularly gesturing towards the movies that would make him internationally famous. The gorgeously monochrome "Oh Father" lifts a number of visual cues from Citizen Kane, which serves as the backdrop for Mank, starring Gary Oldman as its screenwriter Herman J Mankiewicz. Mank also plunges into the glamour of Hollywood's Golden Age, much like the video for "Vogue", while the industrial, dystopian cityscape of "Express Yourself" was recreated in Fincher's feature debut Alien 3 (1992). But it is "Bad Girl", full of the psychological depth, visual symbolism and pulpy thrills that would dominate much of Fincher's filmography, that is his unheralded masterpiece.
"Bad Girl" was an unexpected final chapter in the Madonna/Fincher saga, occurring two years after they had apparently drifted apart. His hiring seemed to come about as a last resort, Madonna having already approached Tim Burton, Mark Romanek and photographer Ellen von Unwerth to direct. She envisioned something that teased the links betwen sex and death, inspired by Judith Rossner's novel Looking for Mr Goodbar. Published in 1975, it is a provocative thriller about a schoolteacher drifting through New York bars sleeping with strange men and winding up murdered. While neither Madonna nor Fincher have ever spoken about the circumstances behind their final collaboration, or what had changed in their personal dynamic since 1991, it is presumed Fincher ran with the idea.
Like "Oh Father", "Bad Girl" feels like a personal exorcism for Madonna, of a kind only Fincher seemed to be able to coax out of her. Speaking to the BBC in 1992, Madonna dismissed speculation that "Bad Girl" was about sex work, and instead about a woman embroiled in a toxic relationship. "She really cares for this person and she's having a hard time saying goodbye," she explained. "She's unhappy with her situation and getting drunk, smoking too many cigarettes … because she's trying to distract herself from reality."
In the video, Madonna portrays a Manhattan magazine editor named Louise Oriole – "Louise" lifted from Madonna's own middle name, and "Oriole" likely a reference to Oriole Way, the LA street in which she lived with her ex-husband Sean Penn. (Their marriage, which ended in 1989, was reportedly a volatile one, with Madonna only explicitly denying in 2015 the long-standing rumours that Penn was violent towards her.) Louise is fraying at the seams, a cigarette always dangling from her lips, and easing her pain through sex with strangers. All the while she is being watched over by the Angel of Death (played by Christopher Walken – Penn's co-star in 1986's At Close Range), who hovers above her bed, watches her from window sills and dances in her apartment while she's out.
Horror also haunts the city, the angel reads a newspaper splattered in grim headlines ("BLOODY RAMPAGE: Teen chops heads off dad, cat & parakeet!"), and Louise unexpectedly picks up a serial killer. In a moment of stirring beauty, the sound of "Bad Girl" drops out entirely, the Angel of Death kisses Louise, she accepts her fate, and is later seen hanging out with him on a street corner watching her corpse being removed from her apartment in a body bag – finally free. Enveloping her at every turn, New York has never seemed lonelier, icier or more intimidating.
Fincher would return to this kind of metropolitan foreboding two years later with Se7en, a serial killer thriller awash in very human trauma. There are other unintentional Easter Eggs throughout "Bad Girl", too: a clock spins in reverse at one point, as it does in his 2008 film The Curious Case of Benjamin Button; there is a smooth pan through a window a la a particularly memorable shot through the handle of a coffee cup in Panic Room (2002) and there is a troubled antihero quality to Louise that is not dissimilar to Gone Girl's Amy Dunne.
It's also a wonderful final curtain for one of pop music's most bizarrely uncelebrated pairings. More than any other director, Fincher seemed to worship at the altar of Madonna's charisma, magnetism and sensuality. Few cameras have ever captured her face as lovingly, or celebrated her numerous personas all at once: her unmistakable cool, her haunted fragility or the sheer maximalist scale of her presence. "Bad Girl", less a music video than a short film, also trusts her to just be. She barely lip-syncs to the song itself, with Fincher instead directing her to express all kinds of contradictory emotions through mere glances or expressions. It is a remarkable performance full of self-loathing, withdrawal and, finally, child-like bliss, and Madonna barely says a word.
Click Independent for the full article.
For anyone in entertainment there is no question that Madonna helped bring some of the newest and most talented visionaries and artists to light helping them to solidify their mark and creative genius on entertainment and pop culture. From some unknown artists to people whom were established before she enlisted and promoted their work. Madonna has also risked at times the approval and acceptance from her peers by the choices she not only made defiantly against the request of bosses at her label and management team. This is no surprise that David Fincher is among several people Madonna is connected to people who are original, top in their field, and very well respected in the industry.