(Image credit: Ed Reeve/ Design Museum)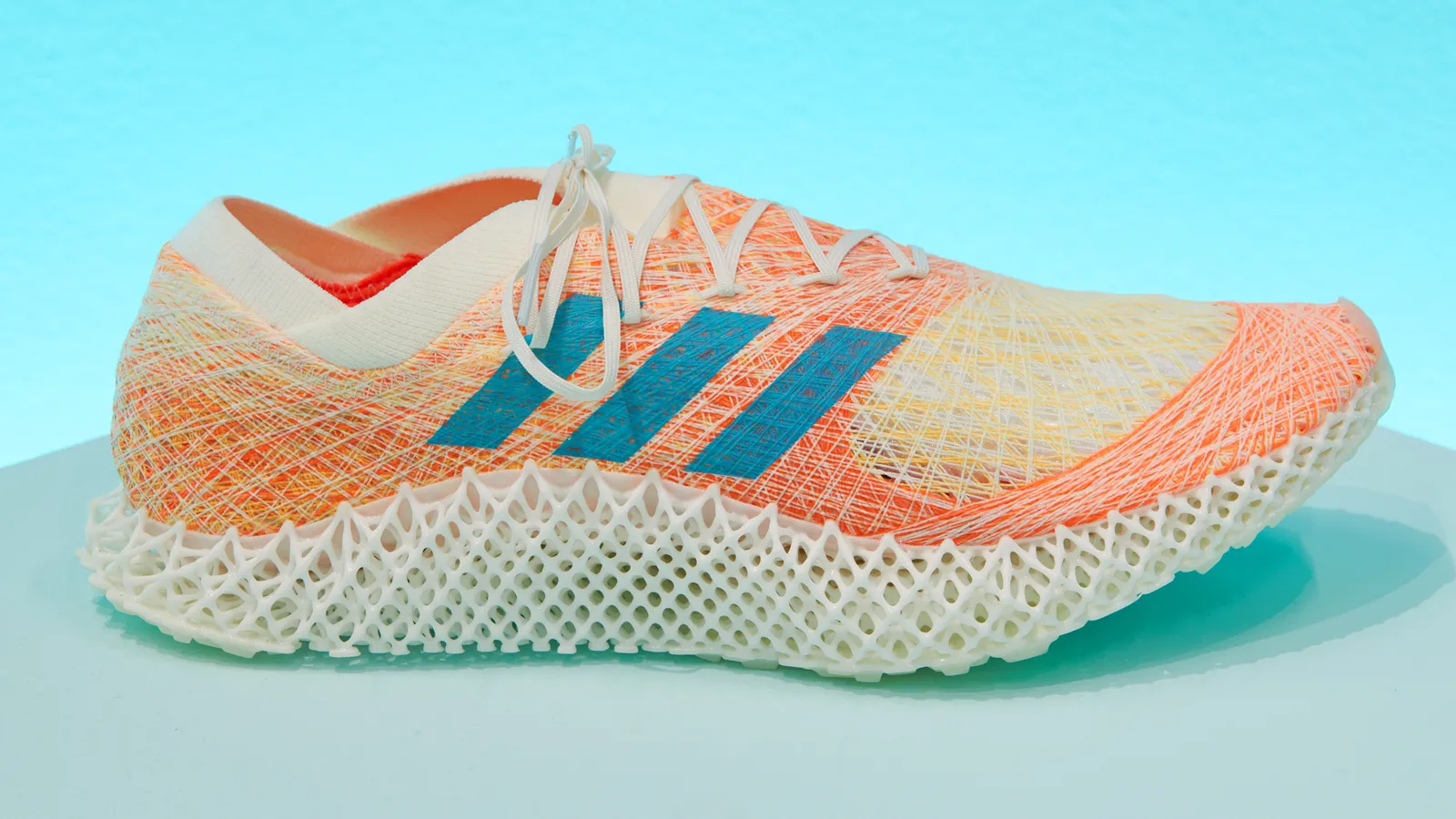 By Arwa Haider14th
July 2021
For sneakerheads, there is a style of trainer for every taste and identity. Arwa Haider explores the pop-culture currency of the footwear favourite, from 'Satan Shoes' to customised creations.
Boxfresh or battle-scuffed; on the court, the catwalk, or at the club or corner store – sneakers (or trainers, or sports shoes, or whatever you might call them) seem to enlace every form, function and fantasy – across sport, fashion, art, movies and music. Over several decades, sneakers have sealed their status as a pop-culture currency. In 1986, New York hip hop legends Run DMC created a ground-breaking anthem (and $1.6million brand endorsement deal) with their hit track My Adidas – and globally, sneaker statements and serenades have continued hard and fast since then, whether it's Dr Dre displaying his pristine stash of Nike Air Force 1s, or Lil Nas X's recent controversial/collectible "Satan Shoes". London's Design Museum has also dedicated its latest exhibition, Sneakers Unboxed: Studio to Street, to the footwear phenomenon.
"What appealed to me was to tell the story of sneakers in a design context as they are ubiquitous everyday designed objects that have taken on such great meaning in many people's lives," says Ligaya Salazar, the curator of Sneakers Unboxed. Salazar's own fashion and art background, and time spent playing semi-pro basketball in her teens, echoes the exhibition's multi-layered overview; the theme is handled with clinical precision (one of the opening exhibits dissects the "anatomy of a sneaker"), but also in a way that offers a vital emotional kick. Many of its defining images stem from street scenes and black cultural innovations; the show includes Martha Cooper's vivacious early-80s photographs of NYC breakdancers sporting robust Puma Clydes; elsewhere, Grace Ladoja's 2015 doc short Air Max – The Uniform explores the London grime scene's favoured footwear.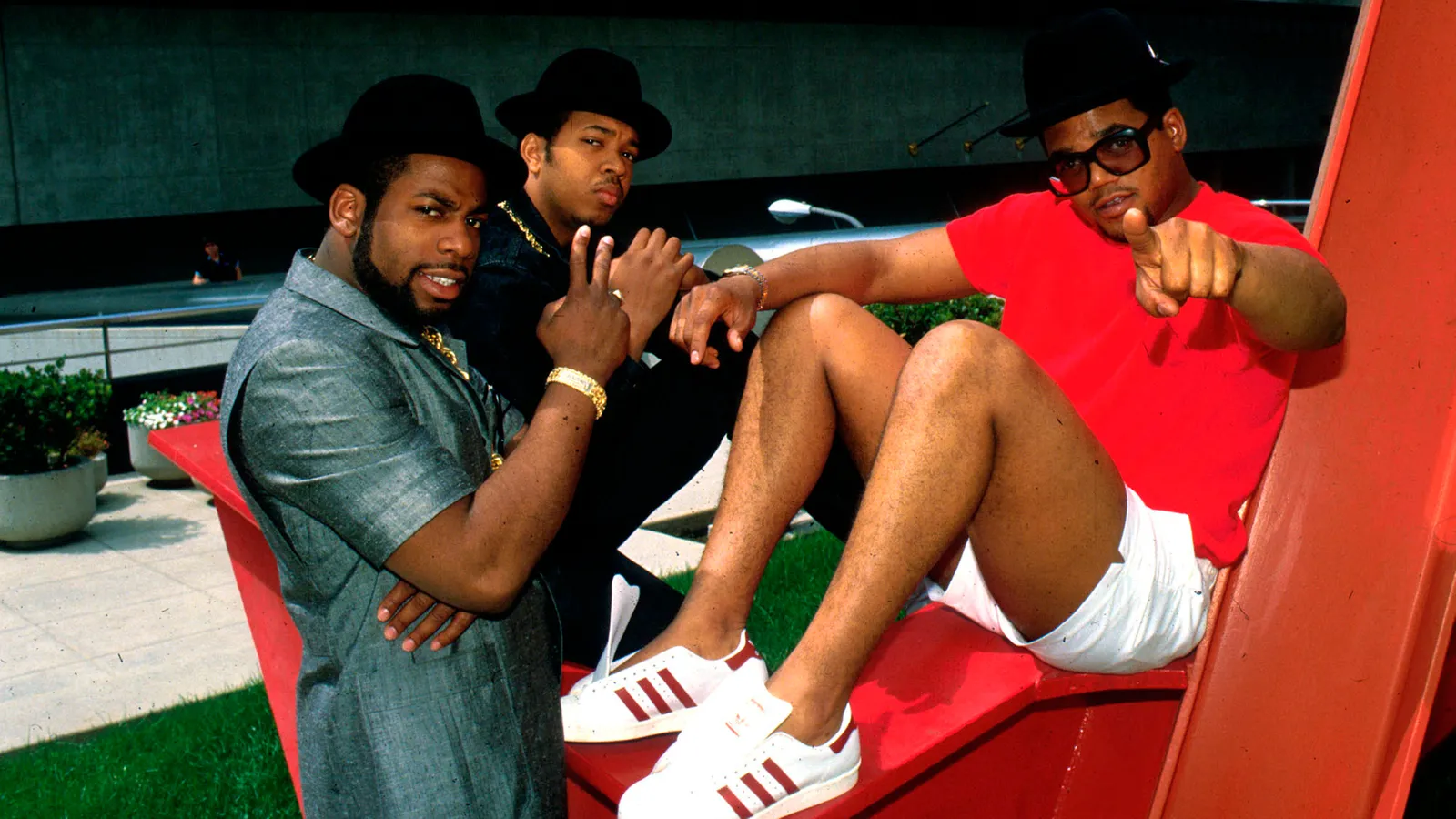 Ever since Run DMC's 1980s hit My Adidas, sneakers have been both style statement and status signifier (Credit: Getty Images)
"Sneakers became style items and statements of identity at the end of the 70s, really," Salazar tells BBC Culture. "It was a culmination of basketball (or football in the UK), style and youth culture that came together to form the foundations of what we now understand as sneaker culture.
"Subsequently there are a number of events that cumulatively build on the popularity and status of sneakers: Run DMC being endorsed by Adidas (the first non-sports endorsement); the first reissuing of Nike Air Force 1s by three Baltimore retailers due to popular demand by customers; and, of course, Nike's endorsement of young North Carolina rookie Michael Jordan – all in the mid-80s. This continues throughout the 90s before [the sneakers] get truly picked up by the big brands and resold as limited editions and collaborations, ultimately manufacturing exclusivity and desire."
Nowadays, seemingly every pop culture event is heralded with rare-edition sneakers
There have always been powerfully opposing forces at play here, and they're also rooted in youth culture: the urge to stand out, versus the need to belong (and swerve fashion mis-steps). At Sneakers Unboxed, I spot an immaculately cased set of Adidas all-white three-stripe Adicolor shoes (1983), designed as a "blank canvas" for personal customisation.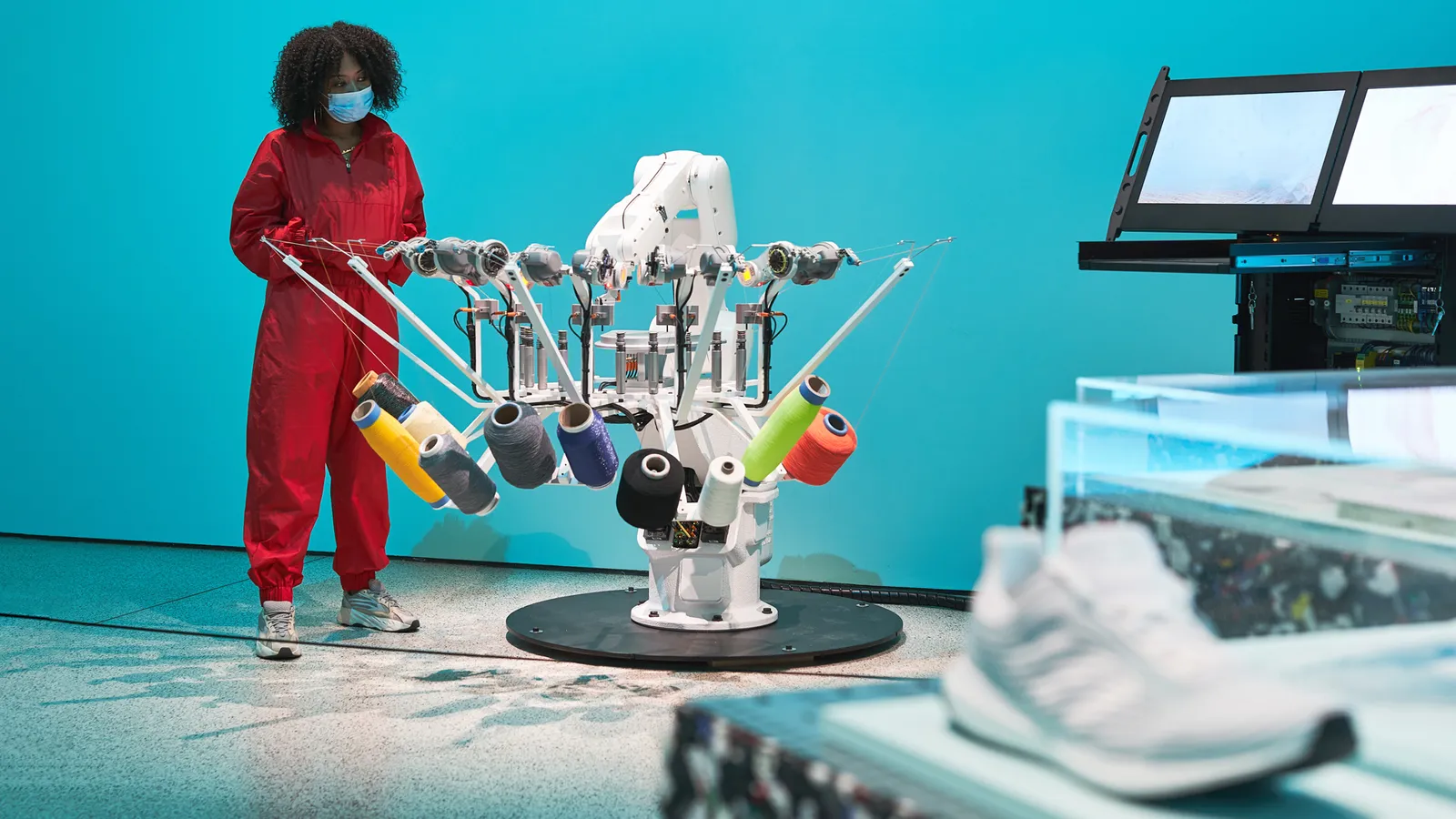 An exhibition at London's Design Museum explores the sneaker as pop-cultural phenomenon (Credit: Design Museum)
It makes me recall the stress around wearing the "right" sneaker brands at my own schools in the late-80s and 90s. When I lived in Saudi Arabia, there was a peculiar vogue for pastel LA Gear shoes with criss-cross laces; when I moved back to South London, the footwear pressure intensified. I was heckled for wearing "foreign" (unrecognisable) shoes. Another girl at my secondary school was mocked for wearing plain non-branded trainers (we'd have never used the US term "sneakers"); keen to be accepted, she wrote "NIKE" in ballpoint capital letters on the sides – and she was bullied even more mercilessly after that.
When I think of my schoolmate's trainers now, her DIY branding actually seems brilliant, yet filled with pathos. It also long predated the anti-cool artistry of Edmond Looi's customised Adidas IKEA Ultraboost shoes (also displayed at Sneakers Unboxed) or the 2021 Tik Tok trend for simply-customisable "$15 Walmart sneakers", as viewed on various viral dance clips.
I never belonged to a sports team or style tribe (Sneakers Unboxed highlights many fascinating examples, from British football "casuals" to Japanese collectors and Mexican "Cholombianos", who combine sneakers with sacred iconography); pop culture shaped my sneaker choices. As a kid, I was drawn towards Converse All-Stars because of their association with multi-genre musicians, as well as their colourful range (the brand's early-20th-Century founder Chuck Taylor set the tone with both his basketball skills and marketing prowess). There's a seemingly infinite playlist of sneaker-inspired songs; US rap dominates, as showcased in Complex magazine's 2013 feature, "The 50 Greatest Sneaker References in Hip Hop History" (including Nas, A$AP Rocky, Jay-Z, and obviously Run DMC), but French hip-hop crews also name-drop footwear, on moody tracks such as AirMax (2011) by L'Uzine from the outskirts of Paris.
Click here for the rest of the story at BBC.